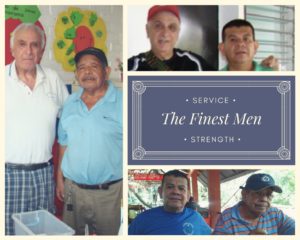 Clean Water for the World is a family. Without the relationships and passion each member brings, we wouldn't have the impact we do.
Two fine men, two heroes of CWFW, joined the Creator God this year. They are Ben Ciuffa and Papá Lopez.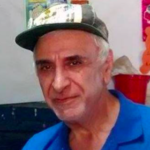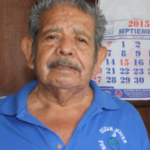 "Papá" Lopez (Juan José Lopez Martínez) was the loving father of José Lopez, Water Promoter for CWFW in El Salvador. Ben Ciuffa, long-time friend and supporter of CWFW, and José Lopez teamed up in 2009 to begin working with local schools near San Salvador to install Clean Water purifiers and educate the communities and schools about the importance of drinking Clean Water.
José, a journalist, documented their journey well. Ben would bring purifiers down and set up press conferences to talk about the impact of Clean Water. Papá Lopez accompanied José to most of the schools to install the water purifiers.
Together, Papá Lopez and José maintained the 25+ purifiers they installed in and around San Salvador. As the All Saints Day approaches (November 1st), we remember two of our heroes. Gone, but never forgotten. Their memory honored in our continued work.
---
Agua Limpia para el Mundo (Clean Water for the World o CWFW) es una familia. Sin las relaciones y pasión que cada miembro trae, no pudiéramos tener el impacto que tenemos.
Dos buenos hombres, dos heroes de CWFW, reunieron con el Señor, el Creador, este año. Se llamaban Ben Ciuffa y Papá Lopez.
"Papá" Lopez (Juan José Lopez Martínez) era el querido papá de José Lopez, Promotor de Agua para CWFW en El Salvador. Ben Ciuffa, un buen amigo y pareja de CWFW, y José Lopez se juntaron como un equipo en 2009 para empezar trabajando en escuelas cerca de San Salvador para instalar purificadores de agua y enseñar a las comunidades y a las escuelas la importancia de tomar agua pura.
José, un periodista, mantuvo un buen documento de su viaje. Ben traía purificadores de Michigan y arreglar conferencias de prensa para presentar el impacto de CWFW. Papá Lopez acompañaba a José para instalar los purificadores de agua.
Juntos, Papá Lopez y José mantenían mas que 25 purificadores que habían instalados en San Salvador. Porque viene el Día de los Muertos (1 de Noviembre), recordamos dos de nuestros heroes. Se fueron, pero nunca se olvidáramos. Nos honoramos su memoria con nuestro trabajo que seguimos haciendo.