Commitment to Serving
Founders Judy & Jerry Bohl have been visiting El Salvador and Haiti for the past 20 years. While visiting they were given bottled water to drink, but were astonished to see the children drinking tap water that was known to be contaminated. Not ones to stand idly by, they immediately got to work in providing access to clean water.
Since 2007, more than 260 purifiers have been installed, providing 150,000+ people with access to clean water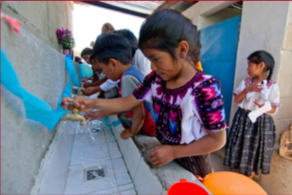 everyday.
It costs $5 per person to have access to clean water for 10 years.
Families save $428 per year by not using firewood to boil water for purification.
A 95% average decrease occurred in incidences of diarrhea in communities with purifiers.
With decrease in firewood use, there is significant reduction in carbon emissions and deforestation
---
Clean Water for the World is inviting you to join us this holiday season in supporting our numerous projects the world over. Our Gift Catalog offers numerous opportunities to get involved and support us!
Provide a Purifier