Jerry and Judy Bohl, founders of Cle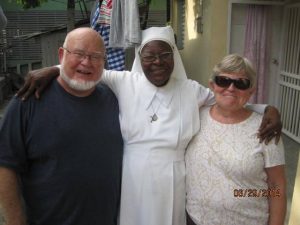 an Water for the World (CWFW), have been traveling to El Salvador since 1995 and to Haiti since 2010 with delegations working in marginalized neighborhoods. Given bottled water to drink, Jerry and Judy were saddened to see the young children drink out of the local water tap that had contaminated water.
After researching options of how to purify water, they learned of a UV-light purifier used in Haiti as a trial developed by a professor and student from the Rochester Institute of Technology. Having met with the leaders of the trial effort, Jerry and Judy were given the blessing to develop the trial even further. Several years and many tweaks later, an inexpensive, portable and efficient water purification system was created that provides up to 5 gallons of water per minute (rate of 300 gallons per hour).
Originally called "The Water Project" in 2002, Clean Water for the World became a full-fledged 501(c)3 non-profit organization in 2007 with the help of Paul Flickinger, first Executive Director of CWFW. Since then, the volunteer-run board has improved the purifier from its original wooden box prototype to the transportable, carry-on size installed today in numerous communities all over the world. Each purifier has the capacity to serve a community of 300-600 persons.
Incrementally over the last 10 years, CWFW has installed water purifiers the world over. Most concentrated in El Salvador, Guatemala, and Haiti, purifiers are donated to communities who provide public and free access to the water purifier. The purifiers are given to those who need it and are meant to be an accompaniment and complement to already existing community projects, now with 260+ installed worldwide.
Mission
Clean Water for the World's mission is a non-profit organization dedicated to providing simple, adaptable water purification systems, at no charge to communities without access to potable water.